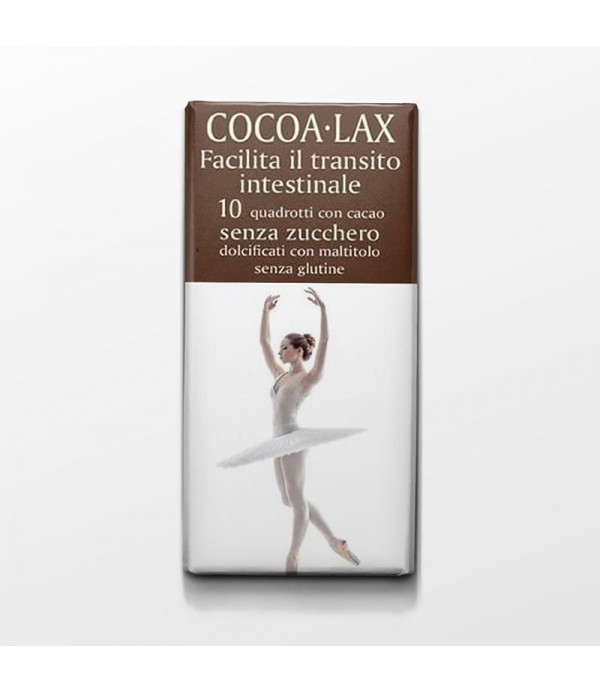  
COCOA•LAX
COCOA•LAX - 85gr - Facilita il transito intestinale e contribuisce al buon funzionamento dell'attività digestiva.
Dose consigliata 1 o 2 quadrotti al giorno prima di coricarsi, con un abbondante bicchiere d'acqua.
85gr Senza zuccheri aggiunti e senza glutine. Edulcolorante: maltitolo
Avvertenze: si sconsiglia l'assunzione del prodotto ai bambini di età inferiore i 12 anni, durante la gravidanza e l'allattamento. Il prodotto non sostituisce una dieta variata ma deve essere impiegato nell'ambito di una dieta ipocalorica adeguata, uno stile di vita sano con un buon livello di attività fisica. 
COCOA LAX food supplement without added sugar, contains herbal ingredients known to promote intestinal transit.
Ingredients: (cocoa min 36%), sweetner: maltitol, cocoa butter, powdered milk, cocoa mass, tamarind (Tamarindus indica) fruit powder, frangula (Rhamnus frangula) bark powder,  Aloe (aloe vera) juice powder, papaya ( carica papaya) pulp powder, emulsifier soya lecithin,  narural vanilla flavour,
Gluten free.
May contain traces of nuts. 
Data sheet
Energetic value Kj

2093 Kj

Energetic value Kcal

500 Kcal

Fats

36.5 g

Saturated fats

22 g

Carbohydrate

52.2 g

Sugars

8.4 g

Proteins

7.2 g

Salt

0.12 g

weight

84 g