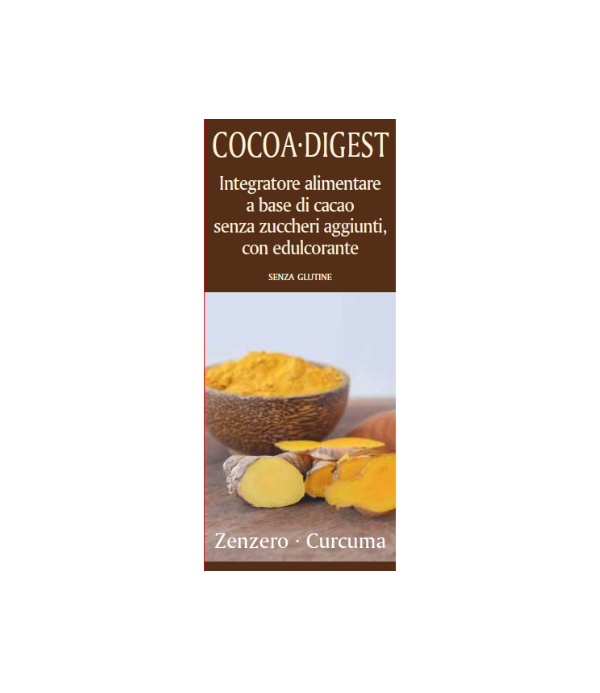  
COCOA•DIGEST
COCOA•DIGEST - Facilita i processi digestivi e contribuisce ad una normale funzionalità Epatica, Cardiovascolare,Articolare. Antiossidante, contrasta gli stati di tensione localizzati.
Quadrotti senza zuccheri aggiunti senza glutine - 84gr
Avvertenze: si sconsiglia l'assunzione del prodotto ai bambini di età inferiore i 12 anni, durante la gravidanza e l'allattamento. Il prodotto non sostituisce una dieta variata ma deve essere impiegato nell'ambito di una dieta ipocalorica adeguata, uno stile di vita sano con un buon livello di attività fisica. 
COCOA DIGEST cocoa based food supplement, helps to stimulate the digestive system function. 
Ingredients (cocoa min 56%),cocoa mass, sweetener maltitol, cocoa butter, dry  turmeric (Curcuma longa)  rhizome extract, dry ginger  (Zingiber officinalis)  rhizome extract,dry pepper (Piper longum) fruit extract, emulsifier soya lecithin, natural vanilla flavour.
Gluten free.
May contain traces of nuts and milk proteins.
Excessive consumption may have a laxative effect. 
Data sheet
Energetic value Kj

1952 Kj

Energetic value Kcal

474 Kcal

Fats

35.1 g

Saturated fats

21.4 g

Carbohydrate

46.9 g

Sugars

0.3 g

Proteins

5.4 g

Salt

0.1 g

weight

84 g